Macron's army of "helpers" reveal hard work behind the scenes
Comments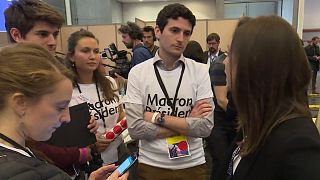 At the election night meeting held by Emmanuel Macron in Paris, many volunteers could be seen handing out information, flags and badges.
They call themselves Macron's helpers, mostly young people willing to give up their time to help boost the chances of the candidate, who formed his political movement "En Marche" only a year ago.
Euronews spoke to one of the volunteers, a 23-year-old university graduate helping with communications and social media.
Donatella Basdereff said: "We've been working for months, lots of calls, emails, speaking to lots of people and it's nice to know we were heard."
She adds: "I hope that over the next fortnight we can convince people about our project, not just because there's no other choice, and they realise that Macron is really the best chance for France and Europe."
The next day Euronews met Donatella at Macron's headquarters, where things are more lively now the candidate is the big favourite to become president.
"Normally when we arrive there's no one, we just say hello to the security guards," she said.
"But today 40 journalists, two vans full of police. It's all changed, moving on to the next phase.
"Now more than ever we have to give our everything to convince people, to respond to the thousands of emails that came through overnight, and lots of answer phone messages."
And already there is something Macron's team has to deal with: criticism of the candidate for holding a celebratory meal in a restaurant just after the first round.