Holocaust Remembrance Day marked around the world
Comments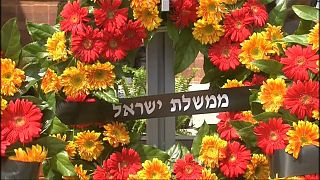 Thousands of young people have taken party in the March of the Living at the site of the former Auschwitz death camp.
People from many countries joined joined around 10,000 Jewish and Polish youth on the march, which started in the late morning and followed a three-kilomtre route from the camp's infamous "Arbeit Macht Frei" gate to the site at Birkenau which housed the camp's main gas chambers.
WATCH the 2017 March of the Living LIVE from Poland https://t.co/aPfiOY4dYopic.twitter.com/vCkKHS7kKF

— March of the Living (@MOTLorg) 24 avril 2017
What is the march of the living?
It is an educational project organised by the March of the Living international association.
Mainly focused on Jewish school youth and students worldwide, it arranges visits to Jewish extermination sites created by the Nazis in Poland during the Second World War.
The first march took place in 1988 and has been an annual event since 1996.
#WeRemember#IomHashoa#HolocaustRemembranceDay March of the Living 2017 MOTLorg</a> en <a href="https://twitter.com/hashtag/Periscope?src=hash">#Periscope</a>: Watch Live! <a href="https://t.co/lVDvzZY2pP">https://t.co/lVDvzZY2pP</a></p>— (((Daniel Brenner))) (Daniel_Brenner) 24 avril 2017
Auschwitz-Birkenau
Around 1.1 million people died in the death camps of Auschwitz-Birkenau. The vast majority of those that perished were Jews, but ethnic Poles, Roma and prisoners of many other nations were also among those who perished.
What happened in Israel?
Israel came to a standstill on Monday as a two-minute siren wailed in remembrance of the Holocaust's six million victims.
Pedestrians stood heads-bowed where they stopped and traffic pulled over on streets and major highways.
In homes and businesses, people stopped what they were doing to pay homage to the victims of the Nazi genocide, in which it is estimated a third of the global Jewish population died.
To commemorate the #Holocaust, today all of #Israel will come to a standstill as a siren sounds for a minute
Video by StandWithUs</a> <a href="https://t.co/m1Sdw9b3r8">pic.twitter.com/m1Sdw9b3r8</a></p>— Gabriel Rosenberg (GabRosenberg) 24 avril 2017
Why did this happen?
It is the centrepiece of Israel's annual Holocaust Remembrance Day held in memory of those who were systematically killed in Nazi Germany during the Second World War.
Ceremonies
A wreath-laying ceremony has been held at the Yad Vashem Holocaust memorial, with Israeli leaders and Holocaust survivors present.
Prime Minister Benjamin Netanyahu and other leaders have publicly recited names of those who were killed.
Other ceremonies, prayers and musical performances took place in schools, community centres and army bases around the country.
Israel marks Holocaust remembrance day for 6 mln Jews killed in World War II. Main ceremony held at Yad Vashem pic.twitter.com/v7IFanKRVc

— China Xinhua News (@XHNews) 24 avril 2017
The context
The state of Israel was established in 1948, three years after the end of the war.
Hundreds of thousands of concentration camp survivors of fled there.
Around 160,000 elderly survivors remain, with a similar number worldwide.
Safeguarding memories
The central theme of this year's commemorations at Yad Vashem was "Restoring Their Identities: The Fate of the Individual During the Holocaust."
There is a call for the public to share testimony and provide more names of those who perished. Yad Vashem's Shoah Victims' Names Project has collected over 4,700,000 names of the victims.
Prime Minister Benjamin Netanyahu lays a memorial wreath at yadvashem</a>, in honor of Holocaust Martyrs' and Heroes' Remembrance Day. <a href="https://t.co/suTzFPWYD1">pic.twitter.com/suTzFPWYD1</a></p>— PM of Israel (IsraeliPM) 24 avril 2017
What Benjamin Netanyahu said
Netanyahu spoke at the main ceremony at the Yad Vashem Holocaust Memorial. He issued a stark warning to Israel's adversaries.
"Iran and Islamic State (sic) want to destroy us and a hatred for Jews is being directed towards the Jewish state today," Netanyahu said.
"From being a defenceless people, we have become a state with a defensive capacity that is among the strongest in the world," he went on.