Macron and Le Pen through to French election run-off
Comments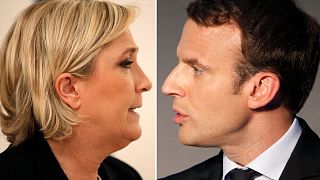 Centrist Emmanuel Macron and far-right candidate Marine Le Pen will go head-to-head in the second round of the French elections.
France voted against the traditional mainstream parties, meaning the keys to the Élysée Palace will be handed to an anti-establishment candidate after the May 7 run-off .
Macron said his new party En Marche had "changed the face of French politics", while Le Pen hailed the result as "historic".
The result is a massive rejection of the ruling establishment: the two centre-right and centre-left groupings have dominated French politics for 60 years.
Initial projections after polls closed at 8pm local time said Macron scored 23.7% in Sunday's first-round ballot to Le Pen's 21.7%.
Latest figures from the Interior Ministry after 40 million votes counted show Macron with 23.54% of votes and Le Pen with 22.33%
The figures do not include results from France's major cities, where Le Pen's level of support tends to be low relative to smaller towns and villages where counts were complete.
Pollster projections pointed to a turnout approaching 80%.
Macron is set to be elected president with nearly two thirds of the vote, according to two polls.
The Harris Interactive poll for M6 television found that 64% of those surveyed would vote for the former economy minister while 36% were seen voting for Le Pen.
Meanwhile, an Ipsos Sopra Steria poll for France Televisions said Macron was seen winning 62% of the vote to 38% for Le Pen.
Le Pen vowed to defend France against "rampant globalisation".
She said: "This result is historic. It puts on me a huge responsibility to defend the French nation, its unity, its security, its culture, its prosperity and its independence.
"The main thing at stake in this election is the rampant globalisation that is endangering our civilisation."
Macron called on all "patriots" to rally behind him against the threat of what he called "nationalists."
He said: "I want to be the president of patriots against the threat of nationalists.
"In one year, we have changed the face of French politics."
thanks