France's overseas territories begin voting in presidential ballot
Comments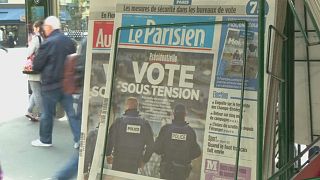 Early voting has begun in France's overseas territories for the first round of the country's most closely-fought presidential race in decades.
This as final preparations are made ahead of Sunday's main casting of ballots across France, where some 47 million people are eligible to take part.
A blackout on opinion polls and the candidates or their policies came into force at midnight on Friday.
They're off! Voting underway (overseas) in France's roller-coaster presidential election, reports ThomasAdamson_K</a> <a href="https://t.co/C9ti6oQ7nX">https://t.co/C9ti6oQ7nX</a> <a href="https://t.co/ffMLp7Sh71">pic.twitter.com/ffMLp7Sh71</a></p>&mdash; The Associated Press (AP) April 22, 2017
Eleven candidates are in the running in the first round and two of them will go forward to the run-off vote in two weeks' time.
The threat of terrorism was pushed to the top of the agenda in the final hours of the campaigning after a policeman was shot and killed on the Champs-Elysee.
French presidential election campaign shaken by Paris shooting, with security issue thrust to the fore https://t.co/b7Kg489niL

— Seamus Kearney (@seamuskearney_) April 22, 2017
Officials are promising tight security for the ballot, with tens of thousands of police and other security personnel on duty.
The country has already been under a state of emergency for many months, with soldiers patrolling key public places.
France Poses Biggest Test Yet for Trump's Brand of Nationalism https://t.co/ph7cAvRuKh

— Seamus Kearney (@seamuskearney_) April 22, 2017
A history of French presidential elections through nine infographics https://t.co/wnh8YrlXA1

— Seamus Kearney (@seamuskearney_) April 22, 2017
The first round of voting in France's presidential election takes place on Sunday. Here's what to know: https://t.co/umuLzZcbQMpic.twitter.com/00UPAzmKgE

— Reuters Top News (@Reuters) April 21, 2017