Fear in France: could Islamophobia hijack the election?
Comments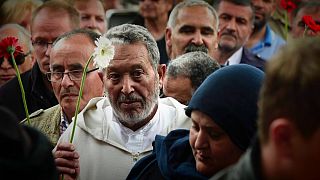 On June 26, 2015, Laurence Cornara's life changed forever. Hervé, her husband, was subjected to the most horrific attack.
They succeeded in a certain way

Lyon resident
The businessman was decapitated by his employee, in Saint-Quentin Fallavier, near Lyon. Yassin Salhi, his killer, sent pictures of his ultra violent attack to Islamic extremists in Syria.
"I have read the Qur'an, to try to understand, we are not going to make an analogy, but Daesh and all these people, they are monsters," Laurence Cornara said.
Asked what should be done to tackle them, she replied simply:
"Eradicate them."
Between 2015 and 2016 two hundred and thirty eight people were the victims of Islamic extremist attacks on French soil.
After the Charlie Hebdo attacks the government said it was now fighting a war with extremism – although it was clear to say not with Muslims.
In Lyon people described how the attacks had changed their lives.
"It hangs over our heads in a very unconscious way but it is there," one woman said.
"At one point everybody was talking about the Part-Dieu shopping centre saying that you could be touched very easily, there's a lot of people, another woman said.
Since the attacks, 7,000 Sentinel Operation soldiers have been deployed and the state of emergency which began in 2015 has been extended until July.
"They have created this fear, this fear of attacks in the subways, in the bus, where there is a gathering, where there is a ceremony. They succeeded in a certain way," one man concluded.
After every attack, the slogan 'we are not afraid' resurfaces but the French are getting used to living with the risk of a new attack, anywhere and at anytime.
"For me, I'm not afraid, but when I'm with my grandchildren I take care, I take no risks," one woman on the Lyon metro said.
"It affects life because as soon as people see an abandoned or suspicious package they report it so the metro is blocked," another passenger said.
The Charlie Hebdo attacks in January 2015 provoked an outpouring of solidarity and the slogan "I am Charlie" brought together four million people in the biggest demonstration France had ever seen.
But the graceful nature of the "I am Charlie" movement is surely not going to last.
The temptation to embrace Islamophobia has never been stronger in French society which is now divided over how to deal with Islamic extremism.
.ReutersGraphics</a> maps out National Front support across France: <a href="https://t.co/QEKKsOeUuL">https://t.co/QEKKsOeUuL</a> <a href="https://t.co/APrTrirKjn">pic.twitter.com/APrTrirKjn</a></p>— Reuters Top News (Reuters) April 5, 2017
Marwan Mohammed, a sociologist, explained why. "There is a French society that is fragile and has already struggled to be cohesive, and the attacks have reinforced these divisions," he told Euronews.
In June, a few thousand Muslims marched in remembrance of the two police officers murdered in Magnanville near Paris.
But despite these efforts France's Islamic community continues to be dogged by the criticism that it's not doing enough to tackle the extremism in its midst.
"It does not want to endorse criminal acts done in its name, but at the same time, at least in the face of a part of society, it feels it has to justify itself," Abdelaziz El Jahouari, the Secretary General of the Council of Muslim Institutions of Yvelines said.
After the Charlie Hebdo attacks in January, Islamophobic acts shot up. At the end of 2015, the government noted an increase of over 200 percent from the previous year.
But that knee-jerk reaction did not occur after the attacks in Paris and Nice.
Nevertheless France remains in a fearful mood. In the polls, the Islamophobic National Front party, is now in the lead.
And it's possible that Islamic extremism might hijack the election altogether.
Extended interview with sociologist Marwan Mohammed
Reporter:
"Are terrorist acts going to have an effect in the polls?"
Mohammed:
"The fight against terrorism is not at the heart of the campaign, the fact that the government under Hollande has taken very drastic measures against terrorism, it's very safe, the state of emergency, its prolongation, an increase in anti-terrorism measures, the highlighting of nationality, it is also a way of cutting the grass under the feet of what could be opposing proposals. "
Reporter:
Islamic State hoped there would be a civil war between the French. Eventually there was no civil war, did they miss their targets?
Mohammed:
"One cannot speak of the total defeat of Islamic State, which wants to put groups against each other, to antagonize French society – whether it is terrorist groups or extreme right-wing political movements whose aim is to exclude or even remove a part of the population. On the other hand, what has been observed is that the unfavourable views of the Muslim population which have been at a fairly high level for a number of years have not been radically altered by the attacks on French society in recent times."