Borussia Dortmund bomb suspect 'hoped to hit club share price'
Comments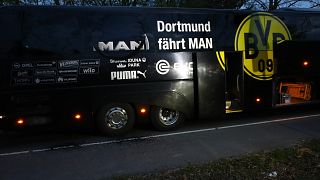 A man has been arrested by German police investigating the bomb attack on a bus carrying the Borussia Dortmund football team.
Investigators say the 28-year-old man of dual German and Russian nationality was attempting to make money on the stock exchange by causing the club's shares to fall.
The federal chief prosecutor alleges the suspect bought options on Borussia Dortmund stock before detonating three bombs 10 days ago.
A Russian-German was arrested over the attack on Borussia Dortmund's bus https://t.co/HZEykRLwdMpic.twitter.com/eI9t4kkMbA

— The New York Times (@nytimes) April 21, 2017
The Spanish player Marc Bartra was wounded in the explosion.
German police have only identified the arrested man as "Sergei V". He is accused of attempted murder, inflicting serious bodily harm and causing an explosion.
Borussia Dortmund bomb suspect allegedly hoped to make money if the club's share price fell https://t.co/yq14H72G56pic.twitter.com/5njNLH2lCR

— Bloomberg (@business) April 21, 2017
Last week prosecutors said they were skeptical about the authenticity of letters found at the site of the attack that suggested Islamist militants were behind it.
Three blasts damaged the team's coach as it headed to a Champions League match against AS Monaco on April 11.
A 28-year-old German-Russian man was arrested this morning for bombing the Borussia Dortmund football team bus https://t.co/YS0Ba1qlcApic.twitter.com/vmyAnphVhT

— The Times of London (@thetimes) April 21, 2017
I call on moderate speculators to condemn this attack #Dortmundhttps://t.co/QFLuzr0Jcg

— Naomi O'Leary (@NaomiOhReally) April 21, 2017