Italy's top court reviews case of Costa Concordia captain
Comments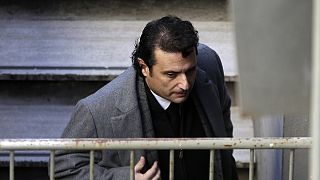 Italy's highest court has begun reviewing the case of the captain of the shipwrecked Costa Concordia cruise liner.
Francesco Schettino's 16-year and one month sentence was upheld by an appeals court last year.
Rome's Court of Cassation must now decide whether to uphold the verdict or order the case to be reviewed anew by an appeals court.
Thirty-two people died when the vessel struck rocks off the Tuscan coast in January, 2012.
Schettino was convicted of multiple manslaughter, causing a maritime accident and abandoning the ship before all passengers and crew had been evacuated.
RT @euronews: Costa Concordia cruiser captain's punishment criticised http://t.co/36HvHU4FTbpic.twitter.com/KiDjPSJH6p

— Ed Webb (@edwebb) February 12, 2015
The 56-year-old is currently under house arrest. He did not appear in court on Monday (April 20).
A decision on the case is expected on May 12.