Iran nuclear deal branded a "failure" by US Secretary of State Rex Tillerson
Comments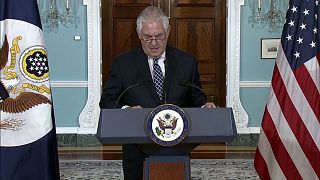 US Secretary of State Rex Tillerson has said the deal struck with Iran in 2015 amounts to "passing the buck" on to future administrations.
Iran has the potential to follow the same path as North Korea and take the world along with it.

US Secretary of State
The agreement, which was branded by Donald Trump as the "worst" ever negotiated, saw Tehran curtail its nuclear program, in exchange for sanctions relief.
However, Tillerson branded the deal a failure, as Trump ordered a review of how the US is countering the threat from Iran.
He said: "The evidence is clear: Iran's provocative actions threaten the United States, the region, and the world. As I indicated at the beginning, the Trump administration is currently conducting a comprehensive review of our Iran policy. Once we have finalized our conclusions we will meet the challenges Iran poses with clarity and conviction."
He went on to say that, without intervention, "Iran has the potential to follow the same path as North Korea and take the world along with it".
"The United States is keen to avoid a second piece of evidence that strategic patience is a failed approach," he continued.
His strong criticism of the country came the day after the State Department officially notified Congress that Iran had met all its commitments under the agreement, something which must be confirmed every 90 days.
Tillerson lashed out at the Obama administration, which negotiated the deal alongside other nations, saying that the Trump administration "has no intention of passing the buck to a future administration on Iran".
The historic deal was struck between Iran and six other world powers – the United States, Britain, France, China, Russia and Germany, with help from the European Union – during the Obama administration, however, it did not address Iran's support of terrorist organisations or its dismal human rights record.
Instead, it focused on the country's commitment not to build a nuclear weapon for at least a decade, and to open its military facilities to UN inspections.
The historic agreement was negotiated with Iran by the United States, Britain, France, China, Russia and Germany, with help from the European Union