UN refugees released by South Sudanese refugee captors
Comments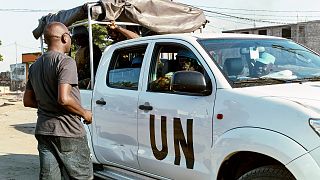 More than a dozen United Nations mission staff have been released by South Sudanese refugees in the Democratic Republic of Congo.
Around a hundred unarmed asylum seekers, who have been living in the Munigi base outside the eastern city of Goma since fleeing South Sudan last August, captured the UN workers on Tuesday, and were demanding they be moved to a third country.
South Sudanese refugees take 13 UN staff hostage in the DRC#Congo,TheDemocraticRepublicofthe https://t.co/HzLCxdME9xpic.twitter.com/zO5cQ44qJz

— Stabilitas Alerts (@StabilitasAlert) 18 April 2017
They were among 530 people who have been living at the base since leaving the country.
UN Goma bureau head Daniel Ruiz told Reuters that the camp occupants have been demanding to be moved for months, but no one would take them.
Most are former rebel fighters who have fled South Sudan's civil war.
They are among millions refugees who have been uprooted by the ongoing violence – the biggest cross-border exodus in Africa since the 1994 Rwandan Genocide.