Teenager dies after Australia shark attack
Comments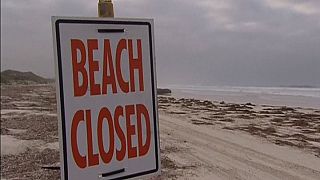 A 17-year-old was killed in a shark attack while on holiday with her family off the coast of Esperance, South Western Australia.
Laeticia Brouwer was surfing with her father when the attack occurred, while her mother and siblings watched from the beach.
He turned towards her as she was dragged underwater and carried her back to the shore with another surfer.
But her injuries were too severe: her leg was badly mauled and she had lost a lot of blood.
A relative said her family would take solace from the fact that she was doing something she loved.
"We are terribly heartbroken and saddened by this tragic accident," said uncle Steve Evans. "We can take comfort that Leticia died doing something that she loved.
"The ocean was her and her family's passion. Surfing was something that she treasured doing with her dad and her sisters."
Officials say the beach would be closed for the next 48 hours while the Department of Fisheries carries out beach and water patrols.
Authorities were trying to locate the girl's surfboard in order to examine any bite marks and identify what species of shark attacked her.
Two people lost their lives last year in Western Australia, both to Great White sharks. Ben Gerring, a 29-year-old surfer was fatally injured after his leg was bitten off above the knee near Mundarah.
And a 60-year-old died while diving off Mindarie, 40km north of Perth.
According to Australian Shark Attack File there have been just over 1,000 recorded shark attacks or encounters with humans since records began in 1791.