Trump leads Easter celebrations, as Melania makes White House appearance
Comments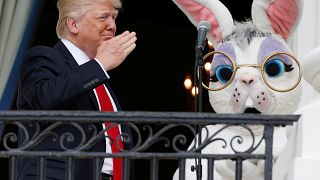 President Trump led Easter celebrations at the White House on Monday, alongside his wife Melania and youngest son Baron. It is the first time Melania and Baron have been seen at the White House since President Trump's inauguration in January.
Trump did not deviate far from the traditional message, as he stood next to the Easter Bunny and thanked his wife for her hard work in organising the event.
The 'egg roll' itself is a race, in which children push Easter Eggs through the grass of the White House's southern lawn with long-handled spoons. This history of the event doesn't say when it first took place, though credits President Rutherford B Hayes for bringing the tradition back to life after Congress banned activities on the White House lawn.
Trump commented that the children invited to take part in the event were "highly, highly competitive".
The President then handed over to his Slovenian-born wife, who thanked the military before wishing those in attendance a happy Easter.
.FLOTUS</a> Melania Trump's speech at the White House's annual <a href="https://twitter.com/hashtag/EasterEggRoll?src=hash">#EasterEggRoll</a> <a href="https://t.co/C7KZXshu6K">pic.twitter.com/C7KZXshu6K</a></p>— euronews (euronews) April 17, 2017
On Thursday, White House Press chief Sean Spicer (who in 2008 played the part of White House Easter Bunny himself) said around 21,000 people were expected to attend the event, and at least 18,000 commemorative eggs had been ordered for the event.
This brought speculation over the event to an end, after the egg manufacturers Well Wood Turning had contacted the White House via Twitter in February to remind them of the event.
FLOTUS</a> <a href="https://twitter.com/realDonaldTrump">realDonaldTrumpPOTUS</a> <a href="https://twitter.com/MELANIATRUMP">MELANIATRUMPIvankaTrump</a> FYI manufacturing deadlines for the Easter eggs are near. Please reach out! <a href="https://t.co/D78YqWVPBi">pic.twitter.com/D78YqWVPBi</a></p>— Wells Wood Turning (WellsTurning) February 20, 2017
The New York Times also reported that as recently as April 11 local schools which normally receive 4,000 invites for children had heard nothing.
But the event did go ahead, complete with golden Trump administration-stamped eggs.
And then there was gold! So proud of the Wells team for their hard work in bringing this year's project to life. Love the #EasterEggRollpic.twitter.com/kUQgmL34A3

— Wells Wood Turning (@WellsTurning) April 11, 2017
Like President Obama and First Lady Michelle before her, Melania led the reading of a children's book. This year, "Party Animals" by Kathie Gifford was the choice.
.FLOTUS</a> reads the book "Party Animals" by <a href="https://twitter.com/KathieLGifford">KathieLGifford to children during the White House Easter Egg Roll | https://t.co/WFyfIN8wz3pic.twitter.com/nL864jB2bo

—

UPI

Photos (@UPIPhotos) April 17, 2017
However, the First Lady's reading seemed a little less animated than the Obama's reading of 'Where the Wild Things Are' in 2016.
Obama & First Lady celebrate Easter reading his FAVOURITE kids book on the White House lawns https://t.co/sWrtZvirdApic.twitter.com/VoutNWSyQ1

— National Centre

ACL

(@NatCentAusChLit) March 30, 2016
Obama said the children's tale was "one of my favourite books".
This year, the event is set to take a turn back to the traditional aspects of the celebration.
"We're bringing back some traditional elements, like military bands, and focusing on the family itself", the First Lady's communications team said.