Tourists toss more than €1.4m into Rome's Trevi Fountain
Comments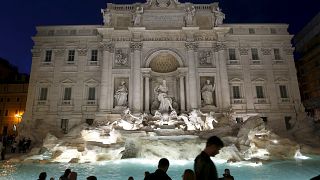 Tourists threw more than 1.4 million euros into Rome's Trevi Fountain last year.
The value of the coins retrieved is up by more than 100,000 on the 2013 figure, the last time the count was released, according to the agency DPA.
The charity Caritas says the money raised will be used to subsidise a supermarket for the city's needy.
The fountain, which dates back to 1762 and most notably featured in Federico Fellini's La Dolce Vita, is one of the city's most popular tourist sites.
Tradition says that coins are supposed to be thrown with the right hand over the left shoulder.