Flush with referendum win, crowd asks Erdogan for death penalty
Comments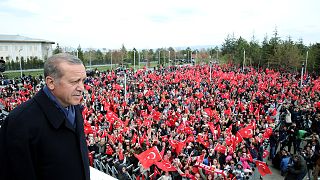 A heady atmosphere of victory has gripped Turkey's ruling AK party since last night when it became clear their leader had won his historic referendum.
President Recep Tayyip Erdogan has been meeting the party faithful and, flush with success at voting for sweeping new powers for their man, they called for another chance to express their will. Erdogan was greeted with cries of "We want the death penalty" in Ankara.
"This is what I have been saying all the time in the rallies. God willing this issue will come to parliament. When it is passed by parliament, I'll approve it, because we don't have the power to forgive the killers of our martyred soldiers," he told a crowd.
#TurkeyReferendumpic.twitter.com/KRN0WEfQ8q

— tOad (@t0adscroak) 16 April 2017
He then invited everyone back to his new palace to continue discussion on the great subjects facing the nation.
However were Turkey to ever restore capital punishment barely a decade since abolishing it to ease the path towards EU membership, it might prove the death sentence for its candidacy.