FLOTUS steals the show at White House Easter egg roll
Comments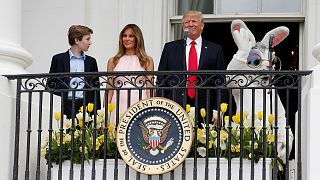 US President Donald Trump, his wife Melania and their 11-year-old son Barron have launched their first White House Easter egg roll.
Held annually for 139 years, the event sees children push coloured eggs along a course with wooden spoons.
While the president briefly set aside the frivolities to issue a warning to North Korea to "behave," the first lady appeared to enjoy the day and even read to some of the thousands of children who attended the events.
It wasn't her only starring role of the day. The first lady also helped out the president with a nudged reminder of the usual protocol when the national anthem is played.
That's a subtle nudge from Melania to remind Trump to lift his hand during the national anthem... https://t.co/P9XlYpjvcQ

— Daniella Diaz (@DaniellaMicaela) April 17, 2017