Trump urged to show his tax returns by protesters US-wide
Comments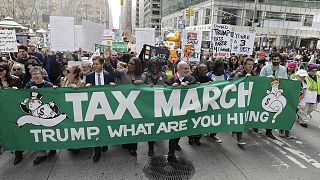 Protesters in the United States staged nationwide 'Tax March' events on Saturday, demanding that President Donald Trump finally release his tax returns.
We are taking the gloves off to say knock off the secrecy Mr. President

Oregon Senator
A Trump impersonator addressed crowds on Capitol Hill in Washington where more than 1,500 demonstrators gathered on the front lawn.
.@LateNightDonald has taken the stage at #TaxMarch! pic.twitter.com/E094b40yy1

— Trump Tax March (@taxmarch) 15 avril 2017
Members of Congress gave speeches before protesters moved on to the Lincoln Memorial.
"We are taking the gloves off to say knock off the secrecy Mr. President," said Senator Ron Wyden of Oregon, the ranking Democrat on the Senate Finance Committee, which would play a leading role in tax reform measures being considered in Congress.
He described Trump's refusal to release his taxes as being "like a teenager trying to hide a lousy report card".
Trump has declined to divulge his tax returns, citing an audit, despite US tax authorities saying that shouldn't stop him making the details public.
His refusal marks a break with more than 40 years of US presidents disclosing their tax history.
The "Tax March" was organised in cities nationwide, including New York, Chicago and Los Angeles.
This is just the beginning. Today, we marched. Tomorrow, the real fight begins. Say you're in: https://t.co/zUQjYn6laD#TaxMarchpic.twitter.com/eF5OQdmpfU

— Trump Tax March (@taxmarch) 15 avril 2017
Organisers suspect Trump is deliberately hiding something in his tax affairs, hinting it could be linked to business dealings he doesn't want to divulge or financial ties to foreign countries. Trump denies this and claims the public does not care about the issue.
Putting in an appearance at the protests was an oversized inflatable rooster, sporting an angry expression and a sweeping metallic orange hairdo meant to resemble Trump's signature style.
It was a graphic symbol of demonstrators' claims that Trump is too 'chicken' to make his tax returns public.
In Chicago, civil rights activist Reverend Jesse Jackson appeared alongside the inflatable bird.
"We have misguided leadership. We deserve better." -@RevJJackson speaks during #TaxMarch rally at Daley Plaza. @cbschicagopic.twitter.com/ecpWnEslH8

— Sandra Torres CBS 2 (@SandraTorresL) 15 avril 2017
Despite peaceful protests elsewhere, a separate event in Berkeley, California, ended in violence.
Clashes broke out between Trump supporters and opponents as police struggled to keep competing rallies apart. More than a dozen people were arrested.
At least 15 arrested as pro- and anti-Trump demonstrators clash in Berkeley, CA https://t.co/OxmHVOkmJjpic.twitter.com/bHjsvtKdUY

—

ABC

News Politics (@ABCPolitics) 15 avril 2017
with Reuters