Charlie Chaplin lookalikes set 'world record' in Switzerland
Comments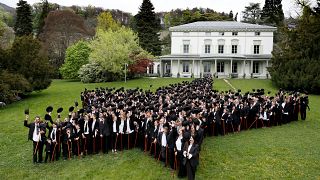 They all came in their dark suits with baggy trousers, bowler hats and walking sticks, and of course the trademark moustache … they came in their hundreds all dressed as Charlie Chaplin's character "The Tramp".
There were no fewer than 662 tramps in fact – which it's claimed is a world record in terms of the number of dressed-up Chaplins ever assembled.
The venue for Sunday's gathering was the British comic's former house at Corsier-sur-Vevey in Switzerland overlooking Lake Geneva – also home to Chaplin's World – the only museum dedicated to him on the first anniversary of its opening, and on the anniversary of his birth in 1889.
Thank you very much! 662 Tramps! Happy Birthday Charlie! #IamPartoftheLegend#ChaplinsWorldpic.twitter.com/u1PjAoHBY2

— Chaplin's World (@chaplins_world) April 16, 2017
Getting on for 100 years since the silent film era when Chaplin's character took America and the world by storm, The Tramp's depiction of society and the workplace arguably has echoes today.
The museum has had some 300,000 visitors over the past year – many more than had been estimated – showing that 40 years after his death, the appeal of the comic genius is still as strong as ever.
128th Birthday of one of the best comedians of all time, #CharlieChaplinpic.twitter.com/tnwp4Vbw9t

—

WION

(@WIONews) April 16, 2017