Why won't Russia be at Eurovision 2017?
Comments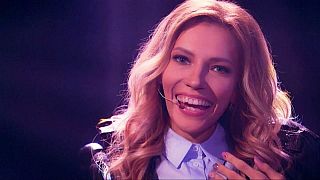 What's the latest?
Politics spills over into popular culture, with Ukraine banning Russian Eurovision Song Contest entrant from attending Kyiv event. Now, as a retaliatory action, Russia's Channel One TV station says it won't be broadcasting coverage of the May 13 event at all.
The state-owned Channel One TV said it "does not consider it possible to broadcast the 2017 Eurovision Song Contest", because of Ukrainian actions.
Eurovision is both popular and successful in Russia, since its participation in 1994.
In Belgrade in 2008, Dima Bilan won the contest with "Believe". As is tradition, the winner hosts the next year's final. Despite only finishing eleventh in the 2009 Moscow final, Russians have performed well since. Both Buranovskiye Babushki (perhaps better known as the singing grandmothers) in Baku 2012, and Polina Gagarina in Vienna 2015 finished in second place. Sergey Lazarev came third in Stockholm 2016.
Why won't Russia appear?
Officials took the decision due to continuing tensions between Kyiv and Moscow over the Russian annexation of Crimea, which contestant Yulia Samoylova visited in 2016. Ukraine sees the peninsula as occupied territory.
Ukrainian security services have banned the singer from entering the country, because prior to her 2015 performance in Crimea she did not apply for special permission from Kyiv, as mandated under Ukrainian law.
The European Broadcasting Union (EBU) which produces the annual Song Contest said it offered two possible solutions, but both were rejected.
The Union had proposed that Samoylova could perform via satellite link from Russia, or as a last-case scenario, Russia could send another contestant.
Channel One said it was "not ready to consider the possibility of replacing Yulia Samoylova".
EBU chief Ingrid Deltenre added that the Russian should be allowed to travel to Kyiv, as she poses "no security risk".
"Unfortunately this means Russia will no longer be able to take part… We very much wanted all 43 countries to be able to participate and did all we could to achieve this", the EBUsaid.
Who is Samoylova?
Yulia Samoylova is a 28-year-old singer from Ukhta, in the northern Komi Republic of Russia.
She has been a wheelchair user since childhood, due to spinal muscular atrophy that affected her legs.
In 2013 she was runner up in the Russian version of the 'X-Factor' television talent show. This led to fame, as she was elected to perform at the opening ceremony of the 2014 Winter Olympics in Sochi.
Then, in 2015 in an incident which has now become infamous, she performed in Crimea without seeking permission from the Ukrainian government.
She was due to perform the song Flame is Burning.
Did Russia see this coming?
It's very possible.
The event is being held in Ukraine in 2017 because of their singer Jamala's victory in Stockholm in 2016. Her song "1944" referenced Joseph Stalin's mass deportation of Crimean Tatars during World War Two. The mainly Sunni Muslim group now only make up around 12 percent of the Crimean population.
The heavy referencing of Crimea was seen by many Russians as a barb intended to bring international attention to the 2014 annexation and the following separatist insurgency in eastern Ukraine.
Some Ukrainians have been sceptical of the Russian choice of Samoylova, though.
Political scientist Anton Shekhovtsov wrote in the Euromaidan Press that Russia "chose a disabled person as Russia's Eurovision entrant in the full knowledge that Ukraine would be compelled to ban her and, thus, sully its own international reputation".
This isn't the first time Eurovision song or artist choices have been questioned over their political overtones.
In 2009, the EBU blocked Georgia's entry over their song We Don't Wanna Put In. Tongue-in-cheek for some, but widely seen as a barely-veiled critique of Russian President Putin in the aftermath of 2008's Georgia-Russia conflict.
The show must go on
As the old showbiz adage goes, the show will indeed go on without Russia.
42 nations will compete, with Austria, Denmark and the United Kingdom celebrating 60 years of participation. The UK will hope Lucie Jones' rendition of Never Give Up On You can avoid another embarrassing "nul point".
There will be two semi-finals, on May 9 and May 11, before the main event: The Grand Final in the Kyiv International Exhibition Centre, in front of as many as 11,000 fans from across Europe, on May 13. 26 finalists, will compete for the honour of hosting the event in 2018.
The 'Big Five'; France, Germany, Italy, Spain and the UK along with hosts Ukraine are straight through to the final, with the other 36 nations battling out for the 10 qualifier spots in each semi-final.
The favourites in 2017 are Italy, according to this Eurovision betting odds calculator. But Francesco Gabbani's Occidentali's Karma will have to ward off competition from Bulgaria's Kristian Kostov Beautiful Mess and Sweden's Robin Bengtsson I Can't Go On, if the bookies' predictions are to be believed.
So far only one betting house is offering odds on which unlucky country will come last, but for the record they are suggesting San Marino, Lithuania and Malta are in the running for this less coveted honour.