'The situation is tragic', Syrians leave besieged towns under evacuation deal
Comments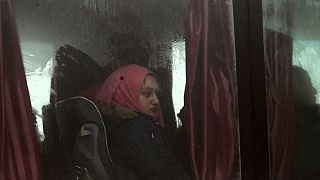 Syrians living under siege for more than two years have begun to leave their homes under an evacuation deal.
Residents of two rebel-held towns are being moved in exchange for transferring rebel fighters and civilians out of two government-held towns.
The convoy of buses began early on Friday morning, leaving Fouaa and Kefraya home to mostly Shi'ite Muslims, besieged by rebel forces. While buses carrying rebel fighters and their families left government-besieged Madaya near Damascus, the Zabadani evacuation appeared to be delayed.
Residents spoke of their anguish at having to leave the place they called home, but also of the suffering they endured cut off from the world by the fighting.
Civilians were trapped in what the UN described as a 'daily cycle of violence and deprivation'.
"The situation is tragic and very hard on us. Whatever we will say we will not be able to express our feelings, it is very hard to leave our village, our land, our neighbourhood," explained activist Abdul-Wahab Ahmad.
The evacuations come as part of the 'four towns agreement' agreed by the warring sides. Many in the opposition view it as forced demographic change while others claim they are simply transferring people from one danger zone to another.