Evacuation begins of four besieged towns in Syria
Comments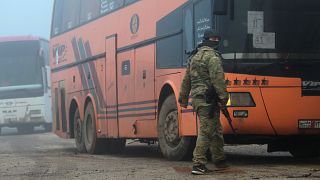 Operations have begun to move residents away from four Syrian towns besieged by rebels and regime forces.
The evacuation marks the first phase of deal struck between the warring sides in the conflict involving a coordinated population swap of tens of thousands of residents.
An estimated 70,000 civilians have been living under a crippling siege in the four areas since 2015, where little food or aid has been allowed in.
Early on Friday morning, hundreds of people from the government-held towns of Fuaa and Kafraya began to leave, while similar movements were underway in the rebel-held Madaya. The evacuation of Zabadani, also a part of the deal, was apparently delayed.
After six years of fighting, with help from Russia, Iran and Lebanon's Hezbollah, the Syrian government has negotiated the pact from a position of strength.
The opposition said the deal amounted to a forced demographic change to displace opponents away from the main cities in western Syria.