New Zealand Cyclone Cook moves off South island
Comments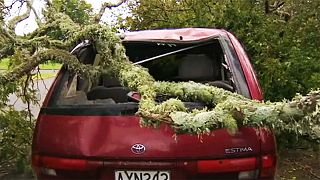 "The worst is over", meteorologist John Crouch announced as Cyclone Cook moved off New Zealand's south Island.
Though the storm was expected to match the ferocity of the 1968 Tropical Cyclone, it bypassed much of the country. However, heavy rains flooded suburban roads on the North Island and gale-force winds uprooted trees. Thousands of homes were left without power and two people were hospitalised after a tree hit their car.
As the clean up begins, Sarah Stuart-Black, Director of the Civil Defence said they would need 48 hours to assess the damage wreaked by the storm.
Cyclone Cook hit after heavy rains from Cyclone Debbie struck last week.
Ominous cloud forms ahead of #CycloneCookhttps://t.co/8F8gxrRb5Ypic.twitter.com/q9bM9IMFQO

— nzherald (@nzherald) April 13, 2017
#CycloneCook remnants miss Auckland but parts of New Zealand still on high alert https://t.co/LCr56JAlEQpic.twitter.com/STrDY8GluC

—

ABC

Emergency (@ABCemergency) April 13, 2017