Melenchon from obscurity to spotlight in French election
Comments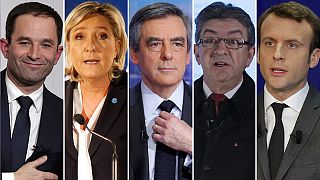 Jean-Luc Melenchon is turning out to be the surprise package in the French presidential race.
The far-left candidate has surged in the polls to emerge as a serious contender, with just nine days to go before the first round of voting.
French presidential candidate Melenchon says will be in 2nd election roundhttps://t.co/an2yR3MxXX#Elections#France#Jean-Luc_Melenchon pic.twitter.com/gnT9GYnVVG

— NewsFront in English (@ENnewsfront) April 11, 2017
Melenchon's rise has largely been credited to his performances during the two televised debates, which seem to have convinced many he's no flash in the pan.
So competition for the keys to the Élysée Palace is closer than ever according to the latest polls.
Centrist Emmanuel Macron and far-right leader Marine Le Pen are tied on 22 percent.
Melenchon is now breathing down their necks on 20 percent while conservative candidate Francois Fillon is stuck on 19.
If he makes it to the second round the poll also predicts Macron will come out on top against his main rivals.
However, some polls show that should Melenchon reach the second round, he could win there.  
Avec FrancoisFillon</a> à Perpignan et Montpellier pour cette dernière ligne droite avant le 1er tour ! <a href="https://twitter.com/hashtag/Fillon2017?src=hash">#Fillon2017</a> <a href="https://t.co/pTHGxWoFeT">pic.twitter.com/pTHGxWoFeT</a></p>&mdash; Valérie Boyer ن (valerieboyer13) April 14, 2017
The latest poll is perhaps another slap in the face for Francois Fillon, once the overwhelming favourite. His campaign has struggled as he continues to fight nepotism allegations, but with his support stable he remains in the running.
Unlikely bedfellows Bill Gates and Benoît Hamon agree on one thing. Will John McDonnell follow suit? CoopClaire</a> <a href="https://t.co/hmILhzldU1">https://t.co/hmILhzldU1</a> <a href="https://t.co/uZtuBCVBlg">pic.twitter.com/uZtuBCVBlg</a></p>&mdash; ProgressOnline (ProgressOnline) April 13, 2017
The ruling French Socialists' presidential candidate Benoit Hamon has been pushed into fifth place in the polls, with his embattled campaign hit by party betrayals and a rise in alternative candidates who are enticing voters away.
Marine Le Pen criticizes Trump for changing his mind on NATOhttps://t.co/QesikZ6D3Zpic.twitter.com/qYscmGKVrw

— Bloomberg (@business) April 14, 2017
Despite Macron and Le Pen's level-pegging, Macron is now the firm favourite given predictions for the second round.
Emmanuel Macron thought his time in politics was over. He may now become France's president https://t.co/c0RYO0CX1gpic.twitter.com/SHcLxSdfT5

— Bloomberg (@business) April 10, 2017
And what about the others?
There are six other candidates on the fringe who are enjoying varying success on mostly social media. Some are veteran campaigners but none are expected to upset the heavyweights.
What is more unsure, given the expected closeness of the vote, are the number of undecided and abstentions.
While about 80 percent of voters turned out for both rounds of the last (2012) presidential elections, predictions this time remain low, creating a real headache for pollsters.