US drops 'mother of all bombs' on Afghanistan
Comments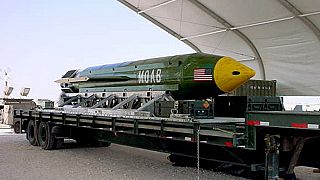 The United States has dropped the GBU-43 Massive Ordnance Air Blast – otherwise known as 'the mother of all bombs' – onto a cave complex in eastern Afghanistan.
We targeted [...] tunnels and caves that ISIS fighters used to move around freely.

White House Press Secretary
Weighing almost 10,000 kilos and at a cost of some 15 million euros, it is the largest non-nuclear bomb Washington has ever used in combat.
White House Press Secretary Sean Spicer outlined the US' strategy concerning the operation.
"The GBU-43 is a large, powerful and accurately delivered weapon. We targeted a system of tunnels and caves that ISIS fighters used to move around freely, making it easier for them to target U.S. military advisers and Afghan forces in the area," he said.
The bomb is so large it had to be dropped from the rear of a cargo plane.
The strike targeted part of Nangarhar Province, near the border with Pakistan. No concrete information has been given on how successful it was.
Last week, in the same area as the bomb was dropped, a US soldier was killed as he conducted operations against ISIL.
"We have the greatest military in the world and they've done a job as usual so we have given them total authorisation and that's what they are doing and frankly that's why they've been so successful lately," Donald Trump told the media.
More than 15 years after a US invasion ousted the Taliban government, the security situation in Afghanistan remains precarious.
Numerous militant groups continue to try to gain control of territory within the country.
The news of the strike came a matter of hours after the Pentagon admitted an air strike over Syria had mistakenly killed 18 rebels from the US-backed Syrian Democratic Forces.
According to Washington, a partnered force had mistakenly identified the target location as an ISIL position.