Sheila Abdus-Salaam, first female Muslim judge in US, found dead in river
Comments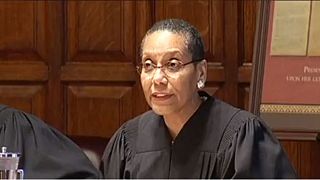 Sheila Abdus-Salaam, a 65-year-old associate judge on New York State's highest court, was found dead in the Hudson River in New York City.
NYC police responded to a report of a person floating by the river bank in Upper Manhattan on Wednesday afternoon.
She was found fully-clothed, with no signs of trauma on her body according to a law enforcement official. There have been unconfirmed reports that she had been previously reported missing.
Abdus-Salaam was one of seven judges on the NY State Court of Appeals, the highest court in the state. She took the post in 2013 after previously serving 15 years on the State Supreme Court.
She became the first female Muslim judge in the entire country in 1994 and the first African-American woman to serve on NY's highest court after appointment by Democratic governor, Andrew Cuomo.
Justice Sheila Abdus-Salaam was a trailblazing jurist and a force for good.

On behalf of all New Yorkers, I extend my deepest sympathies. https://t.co/hnic07Shp1

— Andrew Cuomo (@NYGovCuomo) April 12, 2017
Chief Judge Janet DiFiore said her colleague will be "missed deeply." Former chief judge Jonathan Lippman called her death a "difficult to understand" and a "terrible blow" to the court.
The news comes just days after Raymond Myles, an African-American associate judge in Cook County, Illinois, was shot and killed outside his Chicago home.