Hungarians protest at government moves to restrict NGOs
Comments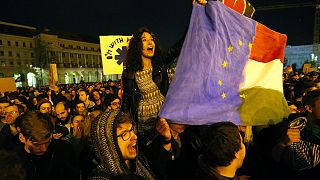 Tens of thousands of protesters have held a day of rallies in the Hungarian capital to oppose government policies seen as limiting academic freedom and intimidating civic groups.
Changes threatening the closure of a top university – the Central European University (CEU) funded by US financier George Soros – have sparked previous protests, now there is renewed anger over new restrictions on NGOs.
Hungary appears to backtrack in row over U.S. university, protests persist https://t.co/PqGTYXgva9#Hungary#istandwithCEU#Resist#orbán

— Andrea DiCastro (@acdm) April 12, 2017
"Both topics are important (NGOs, CEU) and not only these two issues, but in general I would like to protest against the dictatorship building process of the governing parties, this is why I am here," said one young protester.
"The current government should have noticed by now that it doesn't have a place in this modern world. This is a multi-faceted world. If they have already forgotten that they grew up this way but that they now don't want to accept it, then they should go away. We live here and we want to stay here, in Europe," was the opinion of another protester.
At one point protesters in Heroes Square in Budapest formed the shape of a heart. Reporting for euronews, Andrea Hajagos explained that the organisers used the shape and wrote the word "Civil" in the centre to symbolise the work of civic groups, of NGOs which are important for the people of Hungary.
After the rally officially ended some protesters faced off with police officers blocking access to the nearby headquarters of Prime Minister Viktor Orban's Fidesz party.
The protests ended up in front of Parliament. Lawmakers are debating a government proposal to force new restrictions on non-governmental groups funded from abroad. Its to create more transparency says the government. But protesters say its discriminatory and aims to silence government critics.