Hungary defies protests to pass into law 'anti-Soros' university bill
Comments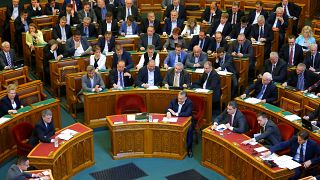 Hungary's president signed into law on Monday a controversial bill on foreign universities seen as targeting an international school founded by US financier George Soros.
Sunday saw one of the biggest protests in Budapest against Prime Minister Viktor Orban and his government, people calling in vain for the president to veto the measure.
It's said to symbolise the clash between two philosophies: international openness as promoted by Soros, and Orban-style nationalism.
From now on foreign universities are required to have campuses both in Budapest and their home country.
The Central European University – founded in the Hungarian capital in 1991 after the collapse of communism – is the only international college with no branch abroad.
Now there are fears it could be forced out – despite the protests and the backing of hundreds of international academics including 17 Nobel laureates.
The law passed through parliament in a matter of days.
Orban said on Monday that Hungary was the victim of a "disinformation campaign", saying the government did not close down universities but simply insisted that they were governed by the same rules.