Venezuelan President Maduro pelted by angry crowd at rally
Comments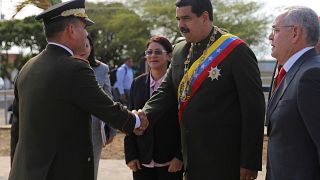 A parade in honour of former Venezuelan leader Hugo Chavez's Chavista movement, and attended by President Nicolas Maduro, was interrupted by critics who threw objects at the embattled leader in Bolivar state.
The rally event, purportedly attended by his supporters, turned into a public display of opposition directly targeting the South American president on Tuesday.
As Maduro waved goodbye, standing in an open air caravan, he and his security detail were pelted by onlookers with what Venezuelan media are claiming were eggs.
UPDATE: Maduro's caravan attracts opponents in #Bolivar, who throw eggs at #Venezuelan president pic.twitter.com/jp0f0as5sL#venezuela

— Sarah Jones Reports (@SarahJReports) April 12, 2017
Maduro's security flanked the president as the objects were thrown and state-controlled media outlets halted their broadcast of the event when the attack began.
It comes after days of violent opposition protests in the country's cities in which two people have been killed sparking international condemnation against Maduro's authoritarian rule.
Protesters have been calling for early elections for weeks, their anger fuelled by Venezuela's Supreme Court decision late last month to assume the functions of the opposition-controlled congress.
Although mostly overturned, the court move only increased popular anger against the government which was compounded Friday last week when popular opposition leader Henrique Capriles was banned from office for 15 years.
Opposition lawmaker Fransicso Sucre from Bolivar state took to Twitter to both repudiate President Maduro and applaud the public's outrage on Tuesday against their president.
The people of San Felix, read Sucre's post, "cannot give a standing ovation to the man responsible for the worst humanitarian crisis in our history!"
El BRAVO pueblo de San Félix repudia a la DICTADURA. No pueden ovacionar al responsable de la peor crisis humanitaria de nuestra historia! pic.twitter.com/0Ft9kfamCE

— Francisco Sucre (@fcosucre) April 12, 2017
"The DICTATOR only needs to leave Miraflores (presidential palace) to see how the people repudiate him!", Sucre added.
Henry Ramos Allup, the speaker of the Venezuela's National Assembly also took to Twitter saying "The people of San Felix love you and want to feed you: that's why they threw eggs, tomatoes, vegetables, banana peels and so on."
Nicolás. El pueblo de San Félix te ama y te quiere alimentar: por eso te tiraron huevos, tomates, verduras, conchas de plátanos y demás.

— Henry Ramos Allup (@hramosallup) April 12, 2017
At least five people were arrested following Tuesday's rally for throwing "sharp objects" at Maduro. They are added to the at least 188 others, mostly students, who have been arrested earlier in April.
At least 57 people are still behind bars, according to a rights group.
The nationwide protests are the first sustained wave of anti-government demonstrations to hit the country in the past three years.
Venezuelans have faced food and medicinal shortages for months, compounded by the country's economic crisis. Inflation, experts predict, will exceed 1,000 percent this year.
Opposition leaders announced another round of protests for Thursday this week in the country's more than 300 municipalities.
The government has criticised protestors of wanting to topple the government and it has engaged in a public relations battle publishing images and videos of protestors vandalising public property.
Venezuelan Defence Minister Vladimir Padrino took to social media to defend President Maduro. He said he was greeted by cheering crowds at the Bolivar event.
"Before the infamy of the right here is the truth of what happened in San Felix, the love of the people," posted Padrino.
Ante la infamia de la derecha aquí está la verdad de lo sucedido en San Félix, amor de pueblo a NicolasMaduro</a> <a href="https://twitter.com/hashtag/MaduroEnMiraflores?src=hash">#MaduroEnMiraflores</a> <a href="https://t.co/5jIShWhCOL">pic.twitter.com/5jIShWhCOL</a></p>&mdash; Escalona Capitán (EscalonaJuanF) April 12, 2017