Passenger dragged off overbooked United Airlines flight
Comments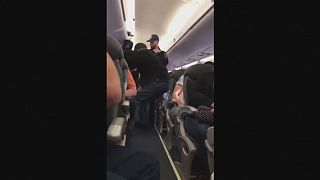 Video footage of a man being forcibly removed from a United Airlines flight has sparked outrage on social media.
The passenger was seen being physically dragged from his seat on a plane the airline had overbooked. He later emerged bleeding from the mouth.
United CEO response to United Express Flight 3411. pic.twitter.com/rF5gNIvVd0

— United (@united) April 10, 2017
United Airlines has apologised saying that one of the security officers involved in the incident has been placed on leave pending an investigation.
The airline went on to explain that they had needed seats for extra staff and had asked for volunteers to take a later flight. None came forward so they followed their "involuntary denial of boarding process", which critics have said evidently didn't work out well.
Vacation? #unitedAIRLINES will make sure to take care of you, best customer service…guaranteed #BoycottUnitedAirlinespic.twitter.com/WlVkSu2J2k

— Petr Prielozny (@PetrPrielozny) April 11, 2017