Turkey days away from controversial constitutional referendum
Comments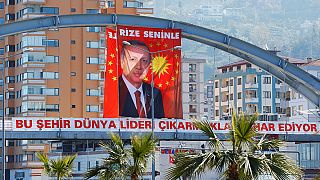 As Turkey's controversial referendum on constitutional change looms.
An aircraft left Berlin heading for Ankara via Copenhagen and London carrying the ballot papers of 1.4 million Turks living in Germany.
The Turkish consul general Mustafa Celik said the votes of all Turkish diaspora will be treated with respect:
"The parliamentarians of all four parties represented in the Turkish parliament will carry out checks so there are no doubts that everything will be handled correctly."
Turkey says it will review its European Union membership plans after the constitutional referendum.
#Erdogan: Western states striving for 'no' in #TurkeyReferendumhttps://t.co/SUEevQDbQypic.twitter.com/yWsMuQGnd2

— Sputnik (@SputnikInt) April 10, 2017
Erdogan has repeatedly lashed out at European countries including Germany accusing them of "Nazi-like" tactics for banning his ministers from speaking to rallies of Turkish voters abroad.
Those campaigning for a 'NO' vote fear the poll is a power grab for Erdogan, which will hand him sweeping presidential powers.
Murat Emir is Turkish MP and 'NO' campaigner:"We were prevented from distributing leaflets in most places. Members of our youth and women branches were detained. Our banners and posters were cut into pieces."
#Hayir#Erdogan#AKP#Turkeyreferendumpic.twitter.com/Myhzavjq0d

— Tobias Busch (@toby4484) April 7, 2017
Opinion polls suggest a tight race in the referendum, although the latest research this week suggested momentum was swinging in Erdogan's favour.