Pyongyang Marathon offers rare opportunity to visit North Korea
Comments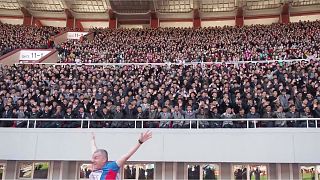 On Sunday, April 9, over 1,000 foreign runners were on hand for a rare glimpse of one of the world's most secretive countries.
Held in the North Korean capital of Pyongyang, the Mangyongdae Prize International Marathon has been held every year since 1981, but only began to allow participants from outside the country in 2014.
The race is part of nationwide festivities leading up to the country's most important national holiday. "Day of the Sun" on April 15 commemorates the birthday of the late Kim Il-Sung. He is the grandfather of Kim Jong-un and is recognised by the North Korean Constitution as the country's 'Eternal Leader'.
Comprised of around 2,000 runners in total, the event begins and concludes in Kim Il-Sung Stadium in front of thousands of spectators who are entertained with a football match while the runners complete their route.