Champions League quarter-finalists enjoy mixed domestic fortunes
Comments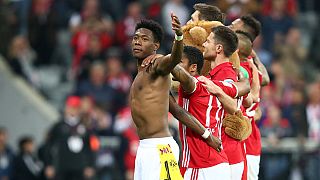 In this edition of The Corner we feature perhaps the most awaited match of the Champions League quarter finals which start on Tuesday, worthy of a final itself.
Bayern Munich versus Real Madrid is a clash of the titans in anyone's book. Both had domestic league tests at the weekend ahead of the tie. While Carlo Ancelotti's Bavarians enjoyed a crushing victory over rivals Borussia Dortmund, the same cannot be said for Zinedine Zidane's blancos, stopped at home in their derby with Atletico Madrid.
Griezmann to the rescue
A terrific goal from Pepe early in the second half after a vibrant first 45 minutes brought the visiting fans to their feet and Real had one hand on the three points but Atletico never know when they are beaten. Torres missed a sitter but heads did not drop and then his provider, Antoine Griezmann, turned goalscorer in the 85th minute as the French world cup star equalised.
Two points lost could have been fatal to their Spanish title hopes had events elsewhere followed their normal course. As it is Real stay top, but go into their CL quarter-final deflated and doubting.
Bayern bully Dortmund
Especially if they have noted the manner of the Germans' domination of their league this year and the ease with which they brushed aside fourth-placed Dortmund on Saturday.
Bayern Munich luxuriate in a 10-point lead in a barmy 2017 bundeslige where only Shalke of the big clubs join them in the top ten.
Crucially Bayern have Manuel Noyer back in goal, but there is an injury doubt over Mats Hummel after he picked up a training knock. Otherwise confidence should be sky-high and there will be no fear ahead of a continental rivalry that has produced some great matches in the past.
So much for four of the CL Final Eight. How did the others warm up for the main event? Two had it easy in their leagues, both the other two were caught out. It's all in Up & Down.
UP
Monaco won and stayed top in France with another valuable three-point goal from Falcao. the only one of the match as the Columbian continues his post-Manchester United resurrection. The last time Monaco got this far in the CL, they went all the way to the final.
UP
Also up are Juventus who host Barcelona on Tuesday. They beat Chievo at home, with Higuain again on target with a double. The bianconeri are easily on top of Serie A, six points ahead of Roma.
but DOWN are Barcelona. The worst preparation possible came at lowly Malaga who beat the illustrious Catalans 2-0. Neymar earned his first La Liga red card to make things worse. The last time Barca lost here was back in 2003. They remain second in the Spanish League, three points behind Real Madrid – who have a game in hand.
DOWN also are Leicester. Before Saturday the form team with only wins under new manager Craig Shakepeare, they face Atletico Madrid on Wednesday on the back of a 4-2 defeat away to Everton. Six wins on the trot came to an end, but also at an end is stale football. Leicester lost, but gamely.
We Might Be Wrong
Here are our predictions for Tuesday's and Wednesday's European clashes. Play with us, sending your predictions via social networks. By now you should know the hashtag very well : #TheCornerScores.
Borussia Dortmund 1-2 Monaco
Juventus 2-1 Barcelona
Atletico Madrid 1-1 Leicester City
Bayern Munich 2-1 Real Madrid
…and finally
Think nimble feet and one goes for Hazard, Neymar, or Messi. But the best dribbler of the season award, going a cool seven minutes before being tackled in an English fourth division match is a beagle.
They are not called hunting dogs for nothing and the pitch invader continued to sniff out the surface as players, officials, fans and what may have been the dogs's family got involved. To little avail as the mutt gave everyone the runaround. Extra time was needed. You will need extra time to recover from the fits of video-induced laughter.