Norway raises security threat level after Oslo bomb scare
Comments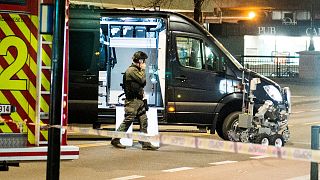 Norwegian police have raised the national security threat level after an explosive device was discovered in the capital Oslo on Saturday night.
The city's bomb squad was called and destroyed the suspected bomb in a controlled explosion.
The device was small but police say the risk of an attack in the coming months has been raised from "possible" to "probable".
A 17-year-old Russian who has lived in the country for several years and had applied for asylum, was taken into custody as a suspect.
"What's happened is that a police patrol came across a guy in the Gronland area who acted in a suspicious manner. In relation to this individual the police found an object which we need to investigate," said the head of the security operation, Svein Arild Jorundland.
Nearby bars and restaurants were evacuated in the multi-ethnic district of the Norwegian capital, which is also home to several mosques and Oslo's main police station.
Norway's police security service said it was taking over the investigation from local police.
Police in the Nordic region have been on heightened alert after Friday's lorry attack in the Swedish capital Stockholm, which killed four people and injured 15.