Italian high court makes stinky cooking a crime
Comments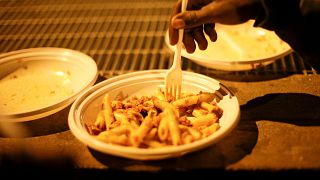 A neighbour's stinky cooking can sometimes be one of the daily annoyances of living in apartment blocks, but in Italy, it has been made a criminal offence.
The country's Court of Cassation this week upheld a ruling criminalising strong cooking odours and even branded a new legal term: "olfactory molestation".
The ruling comes as part of a long-running legal battle between two neighbours from the town of Monfalcone near to Italy's border with Slovenia.
Residents in an apartment block complained about a married couple's cooking of rich pasta sauces and "fritti misti" – a popular Italian dish of mixed fried seafood.
According to the complaint, the strong smell of the couple's cooking would waft from their third floor flat and be intolerable to the other residents.
The case first went to court in Gorizia where the couple were found guilty of anti-social behaviour. The couple appealed and took their case to the city of Trieste – but the court upheld the initial ruling.
Not satisfied with either of those court decisions, the couple appealed again, taking the case all the way to Rome's Court of Cassation.
Unfortunately for the couple, the previous rulings were upheld, and the court ordered they pay a €2,000 fine for their offensive cooking.
Complaints about smelly cooking is rising in Italy as people increasingly come in contact with "exotic" cooking smells from the country's rising immigrant population.
One lawyer who specialises in neighbour disputes told La Repubblica newspaper neighbours sometimes claim they suffer psychological trauma, or even depression, from offensive smelling cooking.