Archaeologists uncover ancient Rome aqueduct
Comments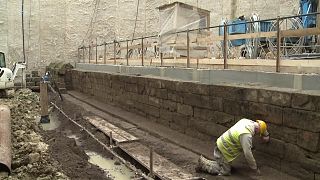 Archaeologists have uncovered what could be Rome's oldest aqueduct.
The ancient structure was recently unearthed during the construction of a ventilation shaft for the Italian capital's new metro line.
The aqueduct is believed to be around 2,300 years old dating from the 3rd century BC.
Measuring some 32 metres long, experts say such a discovery is extremely rare given how deep the section of the aqueduct is.
''It is a very important find. First of all it has been found at a depth that is not normally reachable in an archaeological excavation. For that reason, the dig and construction of the ventilation shaft for Rome's new metro C line has been an extraordinary opportunity,'' archaeologist Simona Morretta said.
Made from large stone blocks, archaeologists are currently dismantling the aqueduct, which almost certainly continues either side of the ventilation shaft.
The plan is to later rebuild it and put the ancient structure on public display.