After decades of secrecy, Barry Manilow speaks openly about his sexuality
Comments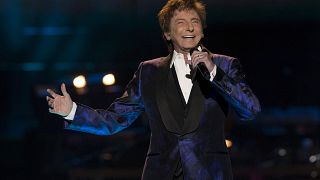 American singer-songwriter Barry Manilow revealed this week he hid the fact he was gay because he feared the news would disappoint his fans.
Manilow, 73, opened up about his sexuality for the first time and revealed he's been in a relationship for 39 years with manager Garry Kief.
.barrymanilow</a> reveals why he didn't come out as gay for decades <a href="https://t.co/NK0Pt1XYwm">https://t.co/NK0Pt1XYwm</a> <a href="https://t.co/p6gPuB0oTK">pic.twitter.com/p6gPuB0oTK</a></p>— People Magazine (people) April 5, 2017
It's never too late to come out! Congratulations to Barry Manilow who just officially came out at 73!! pic.twitter.com/BBOIlpGRiJ

— PendletonNW (@PendletonNW) April 5, 2017
Extremely private about his personal life, Manilow married Kief in 2014, but never announced the news.
"I thought I would be disappointing them if they knew I was gay," Manilow told People Magazine. "So I never did anything. When they found out that Garry and I were together, they were so happy. The reaction was so beautiful — strangers commenting, 'Great for you!' I'm just so grateful for it."
Born in New York City in 1943, Manilow said he knew early in his life music was one of his strongest passions.
His career would take off when, in 1971 he arranged music for and accompanied Bette Midler.
By the latter half of the decade, he had become a pop icon, releasing classics including Copacabana (At the Copa) and Can't Smile Without You.
Over the course of his career he would release more than two dozen studio albums along with more than a dozen compilations.
On April 21 Manilow will release a new album This Is My Town: Songs of New York.
It was in 1978 when Manilow met Kief.
"I knew that this was it," Manilow told People. "I was one of the lucky ones. I was pretty lonely before that. He's the smartest person I've ever met in my life — and a great guy, too."
Kief became Manilow's manager and the President of Barry Manilow Productions.