Alitalia strike grounds 60 percent of flights
Comments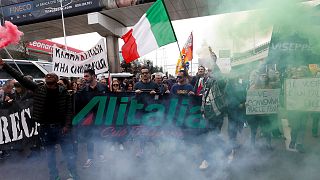 A 24-hour strike at Alitalia forced the struggling Italian airline to cancel 60 percent of its scheduled flights on Wednesday.
Workers called the strike in protest against a drastic savings plan that would slash 2,000 jobs and cut salaries by a third.
Hundreds of domestic and international flights were cancelled, and only a few confused passengers turned up at the main terminal of Rome's Fiumicino airport.
The loss-making carrier, which is 49 percent owned by Etihad Airways, is struggling to win unions' support for its latest turnaround plan, designed to secure crucial funding and avoid having to ground its planes.
Week-long talks between management and trade unions are due to kick off on Thursday (April 6).
CEO Cramer Ball has said the cuts were "painful but necessary".
Despite several overhauls and cash injections over the years, Alitalia is losing at least half a million euros a day and it hopes shareholders will agree to pump in more money.
At Rome's Fiumicino's airport, the main terminal was deserted as only a few passengers, who did not know about the strike, had turned up.
"Workers need to get what they deserve but at the same time it's really difficult when they interrupt travel, it really hurts the economy," said Greg Curtis, a passenger from Florida.
We remind you to check the list of cancelled services, rebooking and refund options on https://t.co/q2JYSs8kCN or to call +390665649. pic.twitter.com/ic4bFtwEM7

— Alitalia (@Alitalia) April 4, 2017
Alitalia said last month it expects to return to profit by the end of 2019 through 1 billion euros of cost cuts and a revamp of its business model for short and medium-haul flights.
After buying into Alitalia in 2014, Etihad pledged to return the airline to profit by 2017, but the turnaround has faltered amid fierce competition from low-cost airlines such as Ryanair and EasyJet.