Russia under fire after Syrian gas attack
Comments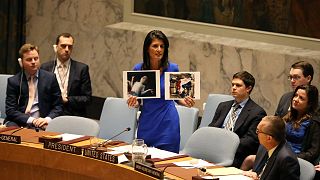 Russia is under fire from other world powers at the UN Security Council over Tuesday's deadly chemical attack in Syria, which the West blames on President Bashar al-Assad's armed forces.
The United States has even waved the threat of unilateral action in the war-torn country, with US President Donald Trump saying the "horrible" gas attack had crossed "a lot of red lines".
On Wednesday, the UN Security Council discussed a draft resolution condemning the attack, which choked dozens of Syrians to death in the rebel-held province of Idlib. But Russia threatened to use its veto to protect its Syrian ally.
Russia believes the poison gas belonged to rebels and had leaked from one of their nearby depots when it was hit by government bombs.
Deputy Russian UN Ambassador Vladimir Safronkov criticized former US President Barack Obama's 2012 threat to use military force in Syria if chemical weapons were used. That, he said, was a "starting point" for provocations by rebels who sought to develop and use chemical weapons to "create a pretext" for a US intervention.
Russia says Obama 'red line' on Syria provoked attacks https://t.co/HfBFeClF1Xpic.twitter.com/59JIYk33he

— Reuters Top News (@Reuters) April 5, 2017
"We don't believe it"
A senior White House official said the Russian explanation was not credible: "We don't believe it," the official told Reuters, speaking on condition of anonymity. The World Health Organization separately said the symptoms seen in the town of Khan Sheikh were consistent with exposure to a nerve agent.
US Ambassador to the UN Nikki Haley strongly condemned both Russia and Syria over the attack, and suggested the US could use military action to solve the country's civil war.
"If Russia has the influence in Syria that it claims to have, we need to to see them use it. We need to see them to put an end to these horrific acts. How many more children have to die before Russia cares?" Haley said.
"When the United Nations consistently fails in its duty to act collectively, there are times in the life of states that we are compelled to take our own action."
Her comments are the most direct talk of unilateral action by the US in Syria since Obama threatened an air campaign to topple Assad in 2013, but called it off at the last minute.
Nikki Haley condemns the Syria chemical attack at UN Security Council emergency meetinghttps://t.co/YbHqlKwDZRpic.twitter.com/hWDbdim1ca

—

TIME

(@TIME) April 5, 2017
Why Russia's claims over the Syria chemical attack 'don't add up' https://t.co/L5qUsTQNJA

— The Independent (@Independent) April 5, 2017