Livadia a home from home for refugees
Comments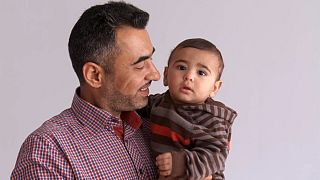 Livadeia in mainland Greece has become a sanctuary for a number of Syrian refugees.
As the town puts into practice the Accommodation of Asylum Seekers and Relocation Candidates funded by the European Commission and overseen by the UNCHR.
Hanan Yousef and her family are beneficiaries they live in a rented apartment and have a monthly pre-paid card to cover basic needs.
Its a return to normality: ''Now we live a normal life, like all people. Everything is good here. My children go to school. It' s not the school that I want, but it's a school. I have a home, a kitchen, I can go to the bathroom… You can say it' s a normal life,"she says.
Ahmad, the youngest, was born in the Ritsona refugee camp nine months ago.
There are six members of the family and they spent 9 months living in a tent. They want to forget those times.
Hanash Yousef is eager for the next part of the adventure:''I have some friends in Ireland. They help me, so I can get there.
I already have the permission from UNHCR to go to Ireland. I don' t know when will we go. I hear it will take two or three months. So I'm waiting.''
The family are on a day out where the local council organises social gatherings for refugees, where they prepare and share food.
The city of Livadeia has 70 apartments which accomodate 420 refugees.
#Migration Min Mouzalas w/ #UNHCR's Leclerc visited Livadia – a small Greek town that will welcome up to 420 #refugees in 70 apartments pic.twitter.com/nsX98LHoCS

— MediaGovGr (@MediaGovGr) April 4, 2017
The mayor of Livadeia Yiota Poulou argues that the city has benefitted from the project:''Livadeia is a city which welcomes refugees and offers them descent living conditions. We believe in solidarity. At the same time, the city has an economic benefit.In times of crisis 1.200.000 euros has bolstered our local economy. That' s really important.''
A home for refugees in Livadia https://t.co/qO8XoBKHQQpic.twitter.com/RyooCKKvBQ

— Kathimerini English (@ekathimerini) April 3, 2017
While young locals and refugees play football, kids have to go to school.
Livadeiá – Greece pic.twitter.com/nn3qJzHaBu

— Veronica M (@VMdesignblogg) December 26, 2016
Greek and refugee children attend sports and music classes together, while young Syrians learn Greek from scratch.
At the primary school Niki Stergiou teaches refugee children. She has gained their trust, but back in January it was a different story:
As Niki explains:
''The first few days, there was chaos in the classroom. They didn't listen, they didn't respect me. They could not understand that I am the teacher,and they had to follow certain rules. When they were angry or they had a fight, some used to take their bags and leave the school. Some climbed over the gates of the courtyard. They tried to escape.''
Euronews correspondent Apostolos Staikos reports from Livadeia: "For many refugee children, this is their first school. They are learning a language, which is completely new to them.They live in a country, which supposed to be just a stop off on their route to Northern Europe. But now, with the support of the local community, they can build a new life."
Extras:The family came from Idlib, and owned a dairy factory employing 30 people.
The project provides the family of six with €500 per month.