Elderly Greeks protest against more pension cuts
Comments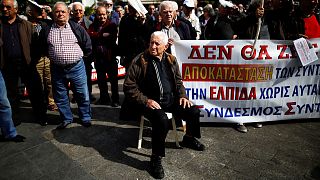 Thousands of elderly Greeks have taken to the streets of Athens to protest against further pension cuts currently being negotiated.
It would be the 12th time since the debt crisis in 2010 that pensions would be reduced, as part of the measures required to secure financial aid to the indebted country.
"With the exception of disabled people, everyone should take to the streets," cried pensioner Maria Georgakopoulou. "Because they will make more cuts leading to such impoverishment that people will think twice even before buying yoghurt."
"They cut our pensions when they had said they would give us back our bonuses," said 77-year old Kostas Dimopoulos. "Not only did they fool us and not give us our bonuses, but they also lowered our pensions even more."
Pensioners are often the sole means of support in Greek households, where a quarter of the workforce is jobless.
While prime minister Alexis Tsipras wants to phase in the next cuts gradually, Germany and the IMF want them implemented in 2019 as soon as the current bailout expires.