Dutch calls for solidarity against gay violence after Arnhem couple gets savaged
Comments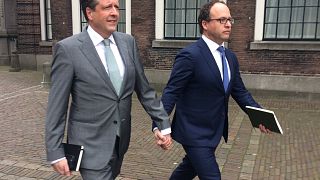 Two Dutch MPs, including the leader of the Democrats 66 party, held hands in entering parliamentary negotiations as part of a social media campaign gaining traction this week decrying violence against homosexuals.
Alexander Pechtold published the image in which he is holding fellow party member Wouter Koolmees' hand in solidarity with a gay Arnhem couple who were brutally attacked on Sunday.
Wij doen mee! Stop geweld tegen homo's. #allemannenhandinhandbarbarabarend</a> <a href="https://t.co/zsLY7Z0SqM">pic.twitter.com/zsLY7Z0SqM</a></p>— Alexander Pechtold (APechtold) April 3, 2017
Pechtold's caption, "Wij doen mee! Stop geweld tegen homo's," loosely translates to "We do! Stop violence against gays."
On Sunday, Jasper Vernes-Sewratan and Ronnie Sewratan-Vernes were reportedly attacked by a group of teenagers, having been singled out for walking hand in hand after a night out.
One of their attackers, allegedly armed with a bolt cutter, knocked our four of Ronnie's front teeth and severed his lip while Jasper allegedly sustained injuries to his ribs.
The couple described their attackers as "Moroccans" on social media.
"That this can still happen in 2017 is incomprehensible and hard to understand because in the end, we are just Dutch in our own country, but it can't be like that, apparently, in terms of homosexuality," wrote Jasper.
Police said they made four arrests linked to the attack. Two of the suspects are 14 years old, three are 16 years old and the last is a man aged 20, according to nltimes.nl.
The attack prompted Journalist Barbara Barend to launch a social media campaign asking all men in the Netherlands to hold hands in solidarity with Jasper and Ronnie under the #allemannenhandinhand.
Male colleagues of NLatUN</a> walking hand in hand in New York protesting against violence directed at LGBTI <a href="https://twitter.com/hashtag/allemannenhandinhand?src=hash">#allemannenhandinhand</a> <a href="https://t.co/AYThVsymep">pic.twitter.com/AYThVsymep</a></p>— Lise Gregoire (LiseGvH) April 3, 2017