Republican party of president in lead in Armenian elections
Comments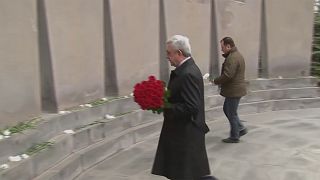 In Armenia, the ruling Republican party of the country's president is in the lead after legislative elections on Sunday.
Serzh Sargsyan was seen laying flowers in a cemetery on polling day, honouring soldiers who have died in the conflict over Nogorno Karabakh.
Armenians were voting in the first parliamentary election in the country since the constitution was changed to give more powers to the parliament and the prime minister.
The lead of the president's party is followed by a bloc of parties led by one of Armenia's richest men, Gagik Tsarukian.
Opponents of the president fear he could try to retain control of the country when he steps down in 2018 by being appointed prime minister by his supporters in parliament.
Sargsyan denies changes were made to keep him in power.
After the changes to the constitution the role of president becomes largely symbolic, elected by parliament.