Colombia bombardment kills 10 ELN rebels
Comments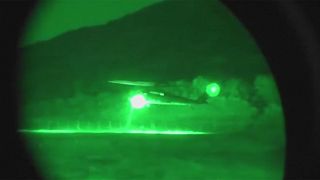 Colombia's military has killed ten members of the country's second biggest rebel group, including a number of women.
Peace talks are underway with The National Liberation Army or ELN, considered a terrorist
organisation by the US and the European Union.
But Defence Minister Luis Carlos Villegas said on Monday that an aerial bombardment had targeted the group in the north-east of Colombia.
Armed Forces Commander Juan Pablo Rodriguez told journalists that the strike was a significant blow to the rebels.
"Clearly, this result, as the minister has said, allows us to neutralise the criminal capacity of this front, which was a special group formed by the ELN and which was dedicated not only to attacking the civilian population in the area but also to attacking energy infrastructure, notably the Cano Limon Covenas oil installation," he said.
Unlike Colombia's larger rebel group FARC, no peace deal has been signed with the 2,000- strong ELN.
Founded by radical Catholic priests and inspired by Cuba's 1959 revolution, it has extorted, bombed oil and electricity facilities and kidnapped hundreds of people over its 52 years of existence.
Women were also a significant presence in the FARC. Now that peace has been signed with that group, its female members are among those preparing to start a new life.
With Colombia peace on horizon, FARC mums look forward to a new beginning @AFP@Arroussiakhttps://t.co/9a8hdQ8wdEpic.twitter.com/skNmEyo1oC

— AFP Features (@AFPfeature) 23 mars 2017
with Reuters