Local hero Okruashvili takes gold in Georgia
Comments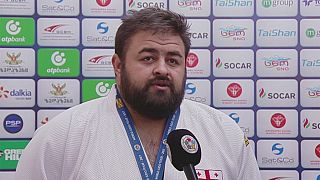 In football, support at home is often regarded as having an extra man on the field. In judo, perhaps it equates to having an extra 20kg on your back.
However you want to measure it, Georgia's Adam Okruashvili moved the crowd and their response help lift him to the top of the podium on the final day of the Tbilisi Grand Prix in the -100kg category.
The local hero and 2013 World Master first put paid to Brazil's David Moura in the semis.
He then faced off against Ukraine's Stanislav Bondarenko whom he got the better of with an osae-komi-waza for ippon.
His effort sent the crowd wild and Okruashvili duly paid tribute to the those who shouted out his name during the semis.
"In the semifinal with the Brazilian Moura, there were 20 seconds left and I was losing by waza-ari, but I couldn't let it happen. I couldn't lose this match in front of my people," said Okruashvili. "It was important and I did everything to win the semifinal. The crowd gave me so much power and I did what I wanted – I beat the Brazilian."
Russia dominated the men's -90kg with Stanislav Retinskii defeating Mikhail Igolnikov.
In the women's -78k final Ukraine's Anastasia Turchyn took gold after France's Sama Hawa Camara was disqualified for receiving three shidos.
In the +78kg class, Belarus' Maryna Slutskaya beat the Brazilian Maria Suelen Altheman to grab gold while Ukraine's Svitlana Iaromka took bronze with this Osoto gari ippon against Santa Pakenyte of Lithuania.
Sweden's Martin Pacek is renowned for his rough and tumble tactics as his rivals know they need to score quickly.
He looked odds on to claim the gold after he overcame Latvia's Jevgenijs Borodavko in the semis by a single shido..
But he couldn't repeat the feat in the final against Russia's Kazbek Zankishiev as the Swede was disqualified for badly timing a sutemi-waza.