Israel: Teenage attacker killed
Comments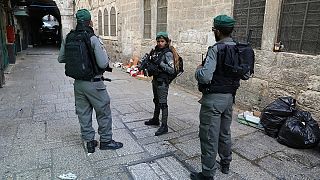 Israeli paramilitary police shot a 17 year-old Palestinian dead on Saturday after he stabbed three Israelis in Jerusalem's Old City.
A police spokesperson said one victim was stabbed in the upper body and suffered moderate injuries. The other man and a border officer were 'lightly' wounded.
#Video from the the place of the stabbing attack and shooting the Palestinian teenager Ahmed Ghazal (17 years… https://t.co/JWuTR5B9E2

— محمد الصادق (@sadeqpress) April 1, 2017
Palestinian web sites identified the assailant as Ahmed Ghazzal, from the city of Nablus in the northern part of the occupied West Bank.
Hamas celebrates the 'heroic' stabbing attack in Jerusalem carried out by 17-year-old Ahmed Ghazal from Nablus. pic.twitter.com/PPEoAqC8t8

— Khaled Abu Toameh (@KhaledAbuToameh) April 1, 2017
Israel executed Palestinian child, Ahmed Ghazal, 17, w/o any questions asked, not knowing if he was even involved in the stabbing in J'slm pic.twitter.com/32YDQzfyvY

— Days of Palestine (@DaysofPalestine) April 1, 2017