Iraqi troops "within metres" of symbolic mosque in Mosul
Comments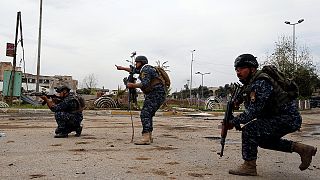 Iraqi forces say they are closing in to "within metres" of the mosque in Mosul where ISIL militants declared their so-called "caliphate" almost three years ago.
Recapturing the al-Nuri mosque in the western part of the city would be a hugely symbolic victory for the government troops as they seek to drive ISIL fighters out of Iraq's second city.
Hundreds are being injured every day as the battle for #Mosul rages. #RedCross surgical teams are working tirelessly to treat the wounded. pic.twitter.com/GfM6zs7bEu

—

ICRC

(@ICRC) March 30, 2017
Almost three quarters of the city has now been recaptured but militants continue to put up stiff resistance, with tens of thousands of civilians caught up in the crossfire.

There's also concern about the danger of civilian casualties from coalition airstrikes, with the US launching an investigation into an explosion believed to have killed more than 200 civilians.
The investigation into civilian casualties in Mosul has expanded https://t.co/YVm7CrIiTUpic.twitter.com/Y66GKduiIL

—

CNN

Politics (@CNNPolitics) March 31, 2017
New ISIS tactic: Gather Mosul's civilians, then lure an airstrike https://t.co/aAT5AcdHV4? pic.twitter.com/KFQehsvEWD

— New York Times World (@nytimesworld) March 31, 2017