Iraqi forces push deeper into Mosul
Comments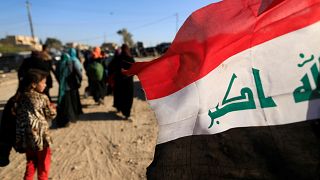 US-backed Iraqi forces have pushed deeper into western Mosul and advanced in several populated areas in southern districts.
This after re-taking the city's airport from the so-called Islamic State, which is trying to cling on to its last major urban stronghold.
It has been putting up some stiff resistance and, according to Iraqi officials, has been using armed drones.
"There was resistance from the enemy and it was very strong, as they used car bombs and drones. But thank God, they couldn't hit their targets and we are dealing with is. And right now, the advance is continuing," said Colonel Haider Ibrahim, from the Iraqi Special Operations Forces.
Civilians continue to be caught up in it all: some injured, some fleeing, many more trapped.
The advancing forces are now just a few kilometres away from the mosque in Mosul's old city where ISIL leader Abu Bakr al-Baghdadi declared a caliphate in 2014 – spanning Iraq and Syria.
Losing Mosul would be a major blow, but the militants still control swathes of territory elsewhere.
Iraqi forces capture Mosul airport in a major gain to driving Islamic State from western half of city: state TV. https://t.co/WPqsdGmqvppic.twitter.com/mZ5wFfG7Bc

— Reuters Top News (@Reuters) 23 February 2017