Controversy as Ivanka Trump makes White House role official
Comments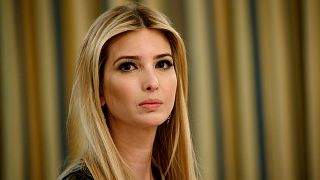 Questions are being raised over how Ivanka Trump will be able to comply with federal ethics standards, a day after she officially became a government employee.
The US first daughter had initially planned to serve inside her father's administration in a more informal capacity but changed course after ethics experts cried foul.
On Wednesday, on taking up her new government post, as Assistant to the President, she said she had heard those concerns.
But critics say Ms Trump, who two week's ago sat alongside Germany's Angela Merkel, still has considerable sway over her business interests, such as her lucrative fashion line.
While 35-year-old has placed those assets in the control of the siblings of her husband, Jared Kusher, also a top aid to President Trump, she can still apparently override their decisions.
Despite the on-going controversy surrounding her role and the US government's strict anti-Nepotism laws , for the moment at least, neither Ivanka Trump, nor her spouse, seem to be in violations of the rules, as both are serving inside the White House in an unpaid capacity.