Israeli-Palestinian conflict top of agenda at Arab leader's summit
Comments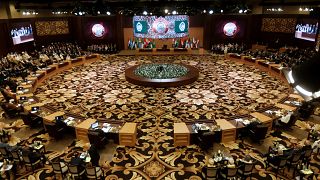 Arab leaders are poised to endorse key Palestinian positions in the conflict with Israel at held their annual summit.
The 21 kings, presidents and top officials gathered on the Jordanian side of the Dead Sea, with a clear view of the Israeli-occupied West Bank on the opposite shore.
https://t.co/Vlb83wXkBfpic.twitter.com/SvleS9dgQ1— The Voice of America(@VOANews) 29 mars 2017
Why is this significant?
Commentators say it sends a signal to US President Donald Trump that a deal on Palestinian statehood must precede any Israeli-Arab normalisation.
The gathering comes ahead of White House meetings in the coming weeks with three Arab leaders – Jordan's King Abdullah II, Egyptian President Abdel-Fattah el-Sissi and Palestinian President Mahmoud Abbas.
Trump has not yet articulated a policy regarding teh Israeli-Palestinian conflict. However, he has suggested the internationally-back idea of a two-state solution is not the only option on the table.
What is the basis of the conflict?
The Palestinians want to set up a state in the West Bank, Gaza Strip and East Jerusalem.
The land was captured by Israel in the 1967 Middle East war.
Was Bashar al-Assad at the summit?
No. The Syrian president was not in attendance.
He has not been invited since Syria's suspension from the 22-member Arab League following his crackdown on a 2011 uprising that quickly turned into a brutal civil war.
Who else was there?
United Nations Secretary General Antonio Guterres was also present at the opening talks.
He told those present that, while fighting terrorism is essential, "any success will prove ephemeral" without a political solution to Syria's six-year-old civil war that allows Syrians to decide their own fate.
The EU was represented by EU foreign policy chief, Federica Mogherini.
Arabsummithighlightstwo-state solution as cornerstoneof peacehttps://t.co/DDsEWNViitpic.twitter.com/BBqg4Siaso

— China XinhuaNews (@XHNews) 29 mars 2017
"Aoun is fine and unharmed"
Before posing for their photocall, Lebanon's president, 83-year-old Michel Aoun, stumbled and fell face-first onto the carpeted floor of the summit venue.
Rafik Chlala, his media adviser, told Al-Jadeed TV that Aoun was fine and unharmed after the fall.