Downgraded 'Debbie' storm brings risk of flooding
Comments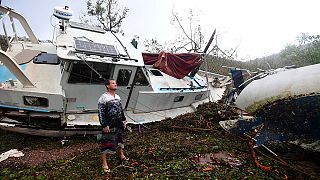 Queenslanders in north east Australia awoke to a scene of destruction after Cyclone Debbie passed over leaving more then 60,000 homes without electricity.
No deaths have been reported but felled trees and debris-strewn roads have left some areas difficult to reach particularly in coastal areas.
"Power is going to be a problem for a few days, I think. But we've got a massive cleanup here at the moment as you can see, it's going to take days," said one local resident.
Cost of #CycloneDebbie: power out, water cut, roads closed as cleanup begins. Flood rescues from heavy rain. #7Newspic.twitter.com/pgeclGt7mN

— Paul Kadak (@PaulKadak) March 29, 2017
For those hunkered down in their homes the power of the category four storm was frightening.
"The wind would come underneath the house and it would shake it, so the whole house was shaking, the wind and rain were hitting it. It was just a remarkable, unreal experience," said one woman.
The storm earlier pounded the Whitsunday Islands, popular with tourists, with wind gusts of 263km/h. Rapid assessment teams have been sent to asses the damage.
Cyclone Debbie may have now been down graded to a tropical storm but as it moves inland it is bringing with it heavy rain and the threat of dangerous flooding.
LISTEN: https://t.co/tCAwfLFTEsQLD Hydrology Manager provides an update on the developing flood situation #QldFlood ex #CycloneDebbiepic.twitter.com/5bfDM5e0mf

—

BOM

Queensland (@BOM_Qld) March 29, 2017