Bizarre bust of Ronaldo unveiled
Comments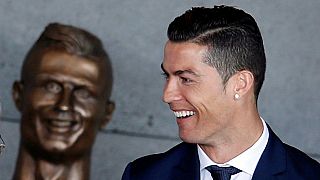 Both the Portuguese President and Prime minister were present with Cristiano Ronaldo at a ceremony in the football star's hometown, but it was the bizarre bronze bust unveiled of the footballer that has stolen headlines.
For a very handsome man, Ronaldo has had some appalling luck with statue-makers pic.twitter.com/M74YEDng4c

— Tom Williams (@tomwfootball) March 29, 2017
An official ceremony was held in the Ronaldo's native Madeira Islands to rename the local airport after Portugal's all-time leader in goals and appearances, which was completed with the unveiling of a bust of the Real Madrid star that social media users have ridiculed for its inaccuracy.
I don't know what you guys are talking about. I think the Ronaldo statue looks pretty good. pic.twitter.com/Zq6jd01yG9

— Mike Sanz (@mikesanz19) March 29, 2017
The 32-year-old was accompanied by Portuguese Prime Minister António Costa and praised by President Marcelo Rebelo de Sousa as "an example of excellence" who "projects Madeira and Portugal across the world far more than anybody else". Still, tweets poured in mocking the bust of the photogenic star.
The Cristiano Ronaldo bust at the airport carrying his name. This is Art Attack… pic.twitter.com/tTVmQBMgms

— Simon Peach (@SimonPeach) March 29, 2017
Even with the statue gaff, the ceremony paid tribute to the 2015-2016 season that was arguably the best of Ronaldo's illustrious career.
He captained the Portuguese national team to their first ever European Championships win in France, helped Real Madrid win a record 11th Champions League title and became only the second player to win four FIFA Ballon D'or awards as the year's best player.