Trump's son-in-law to be questioned over Russian links by US senate investigators
Comments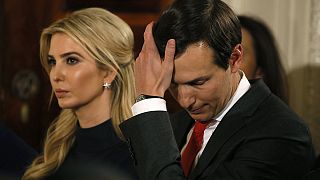 President Donald Trumps son-in-law and close adviser is to be questioned over his contacts with Russian officials.
The Senate Intelligence Committee wants to interview Jared Kushner as part of its investigation in to suspected Russian interference in the US election.
A Russian bank has revealed it met with Kushner in December.
The Russian state development bank Vnesheconombank (VEB), which is under Western economic sanctions over Russia's incursion into Ukraine, said the meeting with executives happened during a bank roadshow.
Kushner, who is married to Trumps daughter Ivanka, has already acknowledged meeting with the Russian ambassador to Washington.
Trump's son-in-law Jared Kushner met executives of sanctioned Russian bank: https://t.co/UXLjhOVjBd via ReutersTV</a> <a href="https://t.co/cexLcKhaG0">pic.twitter.com/cexLcKhaG0</a></p>— Reuters Top News (Reuters) March 28, 2017
He has agreed to testify in front of the committee.
Meanwhile, Democrats have called for the chairman of the House Intelligence Committee to withdraw from its own Russia-Trump probe, after Devin Nunes admitted visiting an intelligence source at the White House.
Democrats have said Republican Mr Nunes, who was a member of Trump's transition team can no longer run a credible investigation in to allegations of Russian hacking and involvement in the US election.
US Representative Adam Schiff, the top Democrat on the House of Representatives Intelligence Committee, said: "It is certainly not normal to go and receive information as the chairman of the committee that you can't share with your own committee members, but you don't share with the president, particularly if the investigation involves associates of the president."
After much consideration I believe Chairman should recuse himself from involvement in investigation/oversight of Trump campaign & transition pic.twitter.com/jpfA1×80Si

— Adam Schiff (@RepAdamSchiff) March 27, 2017